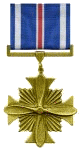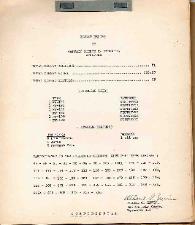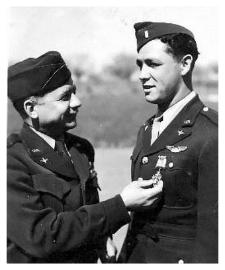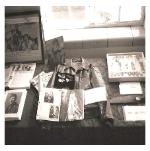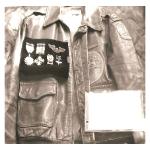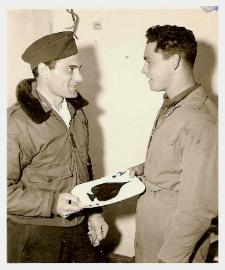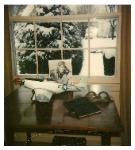 "Ace in a Day"
Lt. Col. Felix L. Vidal
handing Mac the card

Medals, Flight Jacket,
Photos and
other memorabilia

Close up of Medals,
Flight Jacket,

Awards

Decorations and Citations :


EAME Theater Ribbon
with eight battle stars

Distinguished Flying Cross

Air Medal with ten oak leaf
clusters

American Theater ribbon

World War II Victory Medal

Awarded DFC
First Lt. Gordon H. McDaniel,
right, 204 South High Street,
Sweetwater, a 325th Fighter Group
Mustang pilot, has been presented the
Distinguished Flying Cross
by Col. Yantis H. Tavor, commanding
officer of a wing in the Fifteenth AAF
Fighter Command, during a recent
award ceremonies at an Italian base.

An ace is a fighter pilot who is credited with five or more aerial victories.

Distinguished Flying Cross
Awarded for actions during World War II

SYNOPSIS: First Lieutenant (Air Corps) Gordon H. McDaniel (ASN: 0-807583), United
States Army Air Forces, was awarded the Distinguished Flying Cross for extraordinary
heroism in connection with military operations against an armed enemy while serving as
Pilot of a P-51 Fighter Airplane in the 318th Fighter Squadron, 325th Fighter Group,
FIFTEENTH Air Force, in aerial combat against enemy forces on 14 March 1945, in the
Mediterranean Theater of Operations. On this date First Lieutenant McDaniel destroyed
five German FW-190 fighter aircraft to become an ACE in a single day. First Lieutenant
McDaniel's unquestionable valor in aerial combat is in keeping with the highest traditions
of the military service and reflects great credit upon himself, the 15th Air Force, and the
United States Army Air Forces.
General Orders: Headquarters, U.S. Army Air Forces-Mediterranean Theater of
Operations, General Orders No. 52 (1945)
Action Date: 14-Mar-45
Service: Army Air Force
Rank: First Lieutenant
Company: 318th Fighter Squadron
Regiment: 325th Fighter Group
Division: 15th Air Force


[+] click any image for a larger view

[+] click any image for a larger view











This is a true story of an American WWII Fighter Ace, Lt Gordon H. McDaniel of Sweetwater, Tennessee.
He was a member of the 325th Fighter Group, the "Checkertail Clan". His friends called him Mac.